Remarkable designs, with the surprise factor !
Imagine your loved ones in tears with our breathtaking and exclusive floral designs delivered to them San Diego. Don't miss the chance of making your loved ones feel special !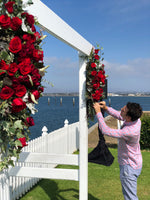 Floral Design for Events
We will execute your vision ! Allow us to fulfill your dreams with reliable service and exquisite taste. Because you deserve it ! give us a call to set an appointment !
WHERE WE DELIVER
We are Granada Floral Design San Diego and we are a real local florist in San Diego, CA. We also provide flower delivery to the surrounding areas, such as, Bonita, Cardiff By The Sea, Carlsbad, Chula Vista, Coronado, Del Mar, El Cajon, Encinitas, Escondido, Imperial Beach, La Jolla, La Mesa, Lemon Grove, National City, Oceanside, Poway, Rancho Santa Fe, San Diego, San Ysidro, Santee, Spring Valley, Vista.Our customers love us because we always deliver the freshest blooms on time. It's because we have the very best drivers who know the ins and outs of San Diego.Don't need to worry about being late. We offer same-day delivery so even if you need to order last minute, we'll still be able to hand deliver the flowers that you want to send.Ordering flowers and picking the right arrangement can be challenging especially for Valentine's Day or Mother's Day We cover all kinds of occasions where it's a fall, winter, summer, spring, or other holiday. We also specialize in anniversary, birthday, get well flowers , but we also have everyday flowers if you just want something to decorate your home or just because. At Granada Floral Design San Diego has a wide selection of floral designs and we take care to deliver the very best fresh flowers.We know funerals and sympathy life events are difficult to express the right emotions. Granada Floral Design San Diego has a good number of funeral arrangements and sympathy flowers so you can always send your kindest condolences.Ordering flowers online is easy with our website and our flower shop prides itself in creating gorgeous floral arrangements using only the freshest flowers sourced from the best flower growers in the world. We even carry hard to find seasonal flowers like peonies, ranunculus, dahlias, protea, that can be perfect for weddings. Of course, we have all types of flowers like your everyday dozen red roses, sunflowers, hydrangea, carnations, too. Even if you're not looking for your traditional bouquets, we also carry plants, orchids, lilies.Surprise your loved ones with a unique design and fresh fragrant flowers for any special occasion. Send flowers right from our online catalog to make sure you send the right gift and/or the right bouquet to surprise someone special. Whether it is a get well flower gift basket, Mother's Day flowers, seasonal centerpiece for the holidays or something that says "I love you" Granada Floral Design San Diego is the leading florist in San Diego, CA and will make sure to send quality flowers in a stunning arrangement.
NEIGHBORHOODS, CITIES, ZIP CODES
Bonita, Cardiff By The Sea, Carlsbad, Chula Vista, Coronado, Del Mar, El Cajon, Encinitas, Escondido, Imperial Beach, La Jolla, La Mesa, Lemon Grove, National City, Oceanside, Poway, Rancho Santa Fe, San Diego, San Ysidro, Santee, Spring Valley, Vista
91902, 91910, 91911, 91913, 91914, 91915, 91932, 91941, 91942, 91945, 91950, 91977, 91978, 92007, 92008, 92009, 92010, 92011, 92014, 92019, 92020, 92021, 92024, 92025, 92027, 92029, 92037, 92038, 92039, 92054, 92056, 92064, 92067, 92071, 92081, 92083, 92084, 92091, 92092, 92093, 92101, 92102, 92103, 92104, 92105, 92106, 92107, 92108, 92109, 92110, 92111, 92113, 92114, 92115, 92116, 92117, 92118, 92119, 92120, 92121, 92122, 92123, 92124, 92126, 92127, 92128, 92129, 92130, 92131, 92134, 92135, 92136, 92137, 92138, 92139, 92145, 92154, 92160, 92161, 92163, 92164, 92165, 92166, 92167, 92168, 92169, 92171, 92173, 92176, 92177, 92186, 92191, 92192, 92193
LOCAL HOSPITALS
Hospitals we deliver to: Kaiser Permanente Bonita Medical Offices, Chula Vista Family Health Center, Chula Vista Medical Plaza, Euclid Endoscopy Center, Molina Healtcare, Perlman Clinic Chula Vista, San Ysidro Health Center, Scripps Mercy Hospital Chula Vista, South Bay Post Acute Care, Biomat USA, Children's Primary Care Medical Group, Children's Primary Care Medical Group Medical Center Court, Otay Family Health Center, Rice Family Health Center, Sharp Chula Vista Medical Center, Children's Primary Care Medical Group Eastlake, Nowak Aesthetics, Otay Lakes Surgery Center, Scripps Coastal Medical Center Eastlake, Bridges to Recovery, San Diego, Kaiser Permanente Rancho San Diego Medical Offices, La Mesa Healthcare Center, Alvarado Parkway Institute Behavioral Health System, Center For Immigration Medical Exam I-693, Country Manor La Mesa Healthcare Center, Grossmont Medical Terrace, Kaiser Permanente La Mesa Medical Offices, Sharp Grossmont Hospital, Sharp Grossmont Hospital Women's Health Center, La Maestra Community Health Centers, National City Family Health Center, National City Family Medical Center, Paradise Valley Hospital, San Ysidro Health - South Bay, Grossmont Spring Valley Family Health Center, NCHS Carlsbad Health Center, Children's Primary Care Medical Group La Costa, Perlman Clinic Carlsbad, Kaiser Permanente Carlsbad Medical Offices, Alvarado Parkway Institute Behavioral Health System Outpatient Services, Chase Avenue Family Health Center, Children's Primary Care Medical Group El Cajon, Children's Primary Extended Care, El Cajon Family Health Center, Kaiser Permanente El Cajon Medical Offices, Parkside Health and Wellness Center, San Diego Post-Acute Center, Villa Las Palmas Healthcare Center, Cottonwood Canyon Healthcare Center, Kaiser Permanente Bostonia Medical Offices, La maestra, Access Medical Centers, Aviara Healthcare Center, Dermatologist Medical Group of North County, Inc., Pacific Pain Medicine Consultants, Rady Childrens Specialist, Scripps Coastal Medical Center, Scripps Coastal Medical Center Encinitas - Pediatrics, Scripps Coastal Medical Center Encinitas OB-GYN - 320 Santa Fe, Scripps Memorial Hospital Encinitas, DaVita Escondido Dialysis, Esperanza Crisis Center, Exodus Recovery, Graybill Medical Group - Escondido Grand Office, Kaiser Permanente Escondido Medical Offices, Neighborhood Healthcare - Pediatrics, Palomar Health Human Resources, Palomar Medical Center Downtown, Rady Children Hospital, Scripps Coastal Medical Center Escondido, Palomar Heights Post Acute Rehab, Palomar Medical Center Escondido, Children's Primary Care Medical Group Girard, Children's Primary Care Medical Group Regents, Jacobs Medical Center at UC San Diego Health, Olde Del Mar Surgical, Schaetzel Center, Scripps Clinic Torrey Pines, Scripps Green Hospital, Scripps Memorial Hospital La Jolla, Sulpizio Cardiovascular Center at UC San Diego Health, Thornton Pavilion, UC San Diego Autism Center of Excellence, Ucsd Medical Group, NCHS La Mision Family Health Center, NCHS Mission Mesa Pediatrics, NCHS Oceanside Health Center, NCHS Oceanside Specialty Health Center, Children's Primary Care Medical Group Sanford, DaVita Oceanside Dialysis, Health Link Medical Center, Kaiser Permanente Oceanside Medical Offices, La Paloma Healthcare Center, Rady Children's Psychiatry Department, Scripps Coastal Medical Center Oceanside - Vista Way, Tri-City Medical Center, VA Oceanside Clinic, West Pacific Medical Laboratory, Casey Fisher- Pain Management Physician, Children's Primary Care Medical Group Gateway, Palomar Medical Center Poway, Poway Healthcare Center, Children's Primary Care Medical Group Santee, Graybill Medical Group - Melrose Office, Children's Primary Care Medical Group Vista, Kaiser Permanente Vista Medical Offices, Scripps Coastal Medical Center Vista: Urgent Care, Vista Village Pediatrics, Elm Street Family Health Center, Naval Medical Center San Diego - Pediatrics, Sharp Radiology, St. Paul's Villa, Teen Health Center, DaVita San Diego South Dialysis, Diamond Neighborhoods Family Health Center, Family Health Centers of San Diego, Sherman Heights Family Health Center, Hillcrest Family Health Center, Hillcrest Family Health Center on Third Avenue, Perlman Clinic San Diego, San Diego American Indian Health Center, Scripps Coastal Medical Center Hillcrest, Scripps Mercy Hospital San Diego, Scripps Mercy San Diego Outpatient Physical Rehabilitation, UC San Diego AntiViral Research Center (AVRC HQ), UC San Diego Health, UC San Diego Medical Center, Hillcrest, Vibra Hospital of San Diego, Kindred Hospital San Diego, North Park Family Health Center, North Park Pediatric Clinic & Women's Health Center, Ibarra Family Health Center, Mid-City Community Clinic - Pediatrics, Oak Park Family Health Center, University Care Center, PointInfusion - IV Vitamin Therapy, Drip & Shot, Boston Medical Group, Kaiser Permanente San Diego Mission Road, Medical Center for Clinical Research, The Performance Center, VA San Diego Clinic, Beach Area Family Health Center, Beach Area Women's Health Center, Marque Urgent Care, Kaiser Permanente Point Loma Medical Offices, NAMI Next Steps Program, Psychiatric Hospital of San Diego County, Urgent Care & More, Children's Physicians Medical Group, Kaiser Permanente Clairemont Mesa Medical Offices, Kaiser Permanente Garfield Specialty Center, San Diego Center for Hyperbaric Therapy, FamilyHealth on Commercial, Logan Heights Family Health Center, San Ysidro Health, San Ysidro Health - CHC Ocean View, Children's Primary Care Medical Group Euclid, DaVita San Diego East Dialysis, City Heights Family Health Center, DaVita College Dialysis, SD MediDent, De Anza View Medical Center, Perlman Clinic Clairemont, Sharp Coronado Hospital, Alvarado Hospital, Children's Primary Care Medical Group Alvarado, Kaiser - 4647 Zion Ave San Diego, Kaiser Permanente Vandever Medical Offices, Kaiser Permanente Zion Medical Center, PsyCare Associates, Inc., LightBridge Hospice, Nourish Medical Center, UC San Diego Health System - Chancellor Park, UCSD, GIOSTAR USA (HEADQUARTER), UCSD Radiology at La Jolla, Children's Medical Group Children's Campus, Kaiser Medical Offices San Diego Viewridge, Kaiser Permanente San Diego Medical Center, Premier Weight Loss Center, Rady Children's Hospital Dermatology, Rady Children's Hospital-San Diego, Rady Children's Hospital–San Diego, Neurology, Rady Children's Outpatient Psychiatry, Physical Therapy, Occupational Therapy, Rady Children's Hospital - Children's Medical Center Pharmacy, Rady Children's Hospital - San Diego, Sharp Mary Birch Hospital for Women & Newborns, Sharp Memorial Hospital, Sharp Memorial Hospital Cardiac Rehabilitation, Therapeutics Clinical Research, UCSD Home Infusion, AFC Urgent Care, Children's Primary Care Medical Group 4S Ranch, Aurora Behavioral Healthcare - San Diego Campus, Kaiser Permanente Rancho Bernardo Medical Offices, Scripps Clinic Rancho Bernardo Urgent Care, DaVita Carmel Mountain Dialysis, Children's Primary Care Medical Group Carmel Valley, Children's Primary Care Medical Group Scripps Ranch, Samahan Health Center - Erma Road Clinic, Balboa Naval Medical Center, Naval Medical Center, US Navy Med Center-Orthopedics, Reo Vista Healthcare Center, Kaiser Permanente Otay Mesa Medical Offices, VA Medical Center, VA Medical [WEST DIV] Center: La Jolla, California, VA San Diego Healthcare System, Veterans Administration Medical Center
LOCAL CEMETERIES & FUNERAL HOMES
Glen Abbey Memorial Park, Glen Abbey Mortuary, Three Strands, Conrad Lemon Grove Mortuary, Dignity Memorial, Dignity Memorial Providers, Funeraria Del Angel Humphrey, Glen Abbey Advanced Planning Sales, Memorial Guardian Plan, National Cremation Service, Sci, Village Cremation Service, Pinkham-Mitchell Mortuary, Home of Peace Cemetery, O'Halloran Henry S MD, Bishop Mortuary, Conrad Lemon Grove Mortuary, Dignity Memorial, Sci, Berge -Roberts Mortuary, Helix View Chapel, Loomis Family Trust 06 26, Taylor Bryant Designs, Nelson Family Trust, Lind Family Trust 03 12 9, East County Pre Need, El Cajon Cemetery, Abbey Cremation Svc, California Memorial Group, Carroll's Mortuary, Caskets Plus More, El Cajon Lakeside Santee, Kelly Ron, Telophase Cremation Society, Vierkant Elmer-El Cajon Mortuary, Cemetery Sales Info. Services, Cemetery Services Agency, El Cajon Cemetery, Leneda Inc, Neptune Society of San Diego, Whatley Cemetery Brokerage, Cremation and Burial Society, Justifcations Studios, Skaja Carl, California Association-Public, North County Cemetery District, Oak Hill Memorial Park, Mt Soledad Memorial Assn, Mt Soledad Memorial Association Inc, After Cremation Scatterings, Caskets & Urns For Less, Cremation & Burial Society, Garden of Innocence, Dignity Planning Center Vista, Sci, Vista Chapel, Feathers From Heaven Wings, AA Sorrento Valley Pet Cemetery & Cre Matory, Center City Cremation, Cremation Svcs, Earth Angels Embalming SE, Fort Rosecrans National Cemetary, Intra Corp, Holy Cross Catholic Cemetary and Mausoleum, Dignity Memorial, Merkley-Mitchell Mortuary, Service Corporation International, Ashes On the Sea, Lewis Colonial-Benbough Mortuary, Thresholds Home Funerals, Williams San Diego Memorial, National Cemetery Fort Rscrns, Beardsley-Mitchell Funeral Home, Dignity Memorial, Sci, San Diego Cremation Service, Gardens For Gourmets, Public Funeral & Cremation Shipping Services, Warren Whidbee, Crematiera, San Diego Cremation Service, Accu Care Cremation Center, All Faiths Mortuary & Crematory Services, Ashes On The Sea, Smart Cremation, Smart Plan, Funeraria Del Angel, Greenwood Crematory, Greenwood Memorial Park & Mortuary, Memorial Park Club, National Cremation Svc, San Diego Cemetery Association, Sci Sc Funeral Svc Inc, Stewart Services, California Cremation & Burial Chapel, Dignity Memorial, Goodbody Mortuary, Home of Peace Cemetery, San Diego Funeral Services, Ashes On The Sea, Sweet Chariots Inc, Caring Cremation Services, Clairemont Mortuary, Romano Family Trust, Hands Full Of Memories, San Diego Funeral Svc, La Jolla Mortuary El Camino Memorial Park & Mortua, Memorial Funeral Trust Inc., San Diego Cemetery Assn, Shamrock Development, National Cremation Svc, O'Halloran Henry MD, Romano Family Trust 08 04, Miramar, Miramar Memorial Services, Trident Society, Sveta & Michael Buyanin, All Faiths Mortuary & Crematory Services, Scripps Succession Services, Scripps Succession Svc, Affordable Burial & Cremation, Donahue, Advance Funeral Planning, National Cemetery Fort Rscrns